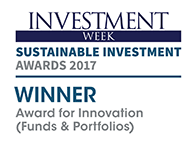 An innovative product which invests into other funds, taking advantage of some of the leading impact products available. It takes a moderate approach to risk (see below)

A way of tackling social and environmental challenges globally by selecting specialist impact managers that invest in companies which, through their practices, products or services, create a positive impact

Looking to achieve long-term financial returns alongside a societal or environmental impact

Effective diversification by investing in different areas and types of investment around the world, according to our Barclays Strategic Asset Allocation model

The expertise of Barclays' team of investment strategists, which undertakes- day-to-day reviews and monitors the holdings within the fund. They may move the asset allocation to take advantage of opportunities in the markets

Annual reporting on the overall impact of its investments.
This investment takes a moderate level of risk to provide long-term growth. There's more exposure to riskier investments than Barclays' lower risk profile funds, but it's still well diversified to try to mitigate some of that risk. At this level, short-term changes in value are more likely and while you'll be invested in both bonds and shares, it'll lean more towards the latter.
Barclays Multi-Impact Growth Fund's investment process combines three distinct levels of internal and external expertise.
Barclays asset allocation - asset allocation is the way investments are organised across broad types, such as shares and bonds. Our Strategic Asset Allocation model is the mix of assets that we believe has the best chance of achieving specified financial goals over the longer term at a moderate level of risk. Watch a video about our strategic asset allocation model
Please note: The actual asset allocation may deviate from those shown due to intentional shifts we make to take advantage of short-term opportunities and risks, as we see them.
Fund management - positioning within each asset class and market is defined by the fund manager using what Barclays see as 'best in class' impact funds. They blend the investment styles and impact considerations whilst undertaking day-to-day reviews of the fund and monitoring developments in the markets.
Impact Security selection - Individual security selection is implemented through selected third-party funds; these fund managers have extensive and proven expertise in their asset class and impact investment strategy.
Past performance: This fund was launched in 2017 and will report performance after its initial year. Regulation prevents us from presenting fund performance of less than 12 months . Such short term performance would not be helpful in assessing the investment.

Understanding types of risk
The value of the investments can fall as well as rise. You may not get back what you invest. We're not recommending the fund as being suitable for you based on your personal circumstances. If you're unsure about this investment's suitability for you, you should seek independent advice.
This fund carries various types of risk you'll need to be aware of.
With bonds the market value can move up and down. They have counterparty risk, this is the issuer's ability to pay the income and repay the nominal value of the bond at the end of the term. Find out more about bond pricing
With shares, stock markets can be volatile, so prices can change quickly and substantially and there may therefore be significant falls in value
This fund may invest in emerging markets which can mean greater risks than well-developed economies
There are other risks too that are explained in the Key Investor Information Documents (KIID) below. You should read the KIID before choosing to invest in this fund. It contains important information about the fund and its risks.
The total ongoing cost for the fund is 1.37% per annum based on the value of your holding. This is made up of:
Fund manager fees (OCF – Ongoing Charges Figure*): 1.17% per annum until September 2018 moving to an OCF of 1.42% in the second year.
Our Smart Investor customer fee: 0.20% per annum or a minimum of £4 per month plus a transaction fee of £3 each time you carry out a transaction, or only £1 if set up as a regular investment.

Ready to buy and have an account with us?
You can purchase this investment by searching for "Impact Growth" or using the fund code (ISIN) "GB00BYPZYN82".