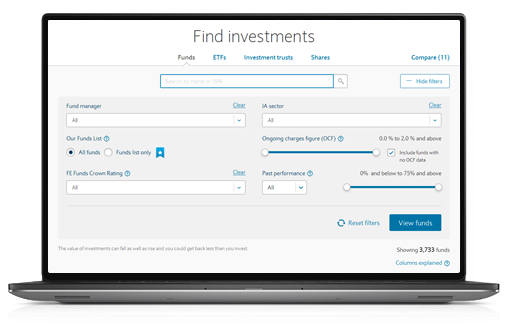 There are more than 2,000 funds, Exchange Traded Funds (ETFs) and investment trusts available on Smart Investor. We've taken the hard work out of narrowing down your choice by offering you a range of different ways to search for the funds that will fit your investment goals.
Always read a fund's factsheet and Key Investor Information Document (KIID) before you invest, so that you can be certain you fully understand the fund's risks, charges and objectives.
Remember, the value of investments can fall as well as rise and you could get back less than you invest. If you're not sure about investing, seek independent advice.
Ways to narrow down your fund choices
---
Our Funds List is a filtering tool that you can use to identify the funds we believe have the potential to perform well over the medium to long term. Selected by Barclays investment specialists, the funds featured in the list cover a range of sectors and have established what we believe are strong track records. We review the list on a regular basis so it's always up-to-date. Remember though that this list isn't an investment recommendation.
Looking for an independent perspective? Crown ratings, devised by ratings agency FE (formerly Financial Express) are designed to highlight funds that have had superior performance and consistency on a risk-adjusted basis, relative to their peer groups using a benchmarking process. A single FE Crown Rating reflects the lowest tier and a five FE Crown Rating the highest tier. Again though, you need to bear in mind that past performance is not a reliable indicator of future performance.

The IA (Investment Association) represents investment managers in the UK. It divides funds into 30 different sectors, usually based on the type of assets within the funds, and may also focus on a particular geographical area or investment strategy. You can use the sectors to help you navigate around the funds universe.
Charges eat into your profits so think carefully about how much you're willing to pay. Bear in mind that actively-managed funds, where a fund manager selects the stocks they believe will provide the best returns, tend to have higher charges than passive funds such as index trackers or Exchange Traded Funds (ETFs) which usually mirror the performance of a particular index like the FTSE 100.
Some fund managers have particularly strong track records when it comes to generating returns. As with past performance though, a fund manager can't guarantee future results so don't base your decision on a manager's strong track record alone.
Past performance can be a useful indicator of the sorts of returns a fund has provided so far, but it is not a reliable indicator of future results. So while you may want to take past performance into account, don't rely on it exclusively when choosing which funds to invest in.

Remember that Smart Investor does not offer financial advice, so you must decide how to invest your money. The criteria outlined here can only help you narrow down the choice. Investing in funds is like any other type of investment. The value of your investment can fall as well as rise. You might not get back the amount you invest.